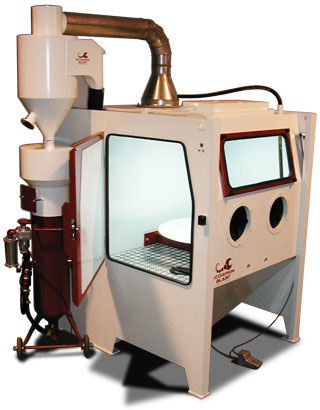 Scorpion Blast cabinets
Operator friendly and environmentally safe, the Scorpion Blast cabinet is designed and built tough for high productivity continuous abrasive blasting or shot peening.
Our innovatively designed blast cabinet combines a unique Tru Downflow dust collector, with a compact one piece blasting cabinet layout, to provide a blast cabinet with unparalleled performance and minimal floor space requirements.
The spacious working cabin size and sweeping ventilation air flow make blasting easier and ensures operator comfort and high visibility is maintained at all times inside the blast cabinet. Abrasive usage is minimized through the use of a two stage media cyclone that can be adjusted to suit a wide range of blasting media.
The Scorpion Blast cabinet is available in suction and pressure configurations. A range of work handling and automation options permit customization to meet virtually any surface preparation, finishing and impact peening requirements.
Discover some of the many blast cabinet uses.